Spreedly Wordpress Plugin
Introduction
Based on the Spreedly PHP Library, this plugin provides a drop-in solution for requiring paid subscriptions to view certain content on your Wordpress blog.
Installation is as easy as uploading and installing the Wordpress plugin. You then configure the Spreedly settings, and you're ready to go.
Videos
Watch how it works →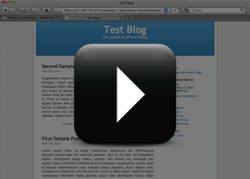 Watch how to install and configure →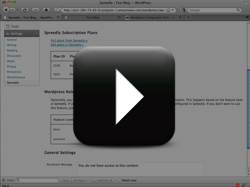 Purchase
Current version: 1.0.5
The Spreedly Wordpress Plugin is licensed in two ways:
| Single-Site | Multi-Site |
| --- | --- |
| One Wordpress install | Unlimited Wordpress installs* |
| Free upgrades | Free upgrades |
| $49 | $129 |
Interested in purchasing this plugin?
Contact us at …
* Multi-site licenses are for installations of Wordpress for you or your organization. If you wish to purchase this plugin for clients, please contact us for special pricing.
Features
Require a subscription to view pages and posts. Each page and post can be configured to require a certain feature levels to view the content. There are three options you can set for each page and post:

Visible to world. (default)
Hide only the content. This option makes the title and comments visible to the world, but hides the content unless the user has purchased a specified feature level.
Completely hide the page or post. This option makes the page or post completely invisible to users who have not purchased a specified feature level.

Change roles based on feature level. There are many good plugins that let you create and maintain roles and capabilities in Wordpress. The Spreedly Wordpress Plugin lets you change a user's role based on the subscription they purchase. It is all handled seamlessly behind the scenes for you.
Support for multiple feature levels. You can have any number of feature levels and charge different amounts for each. You can then specify which feature levels are required to view certain content. This is great if you want to offer something like "basic" and "premium" subscriptions.
Hide content inside posts and pages. Even content inside a page or post can be hidden behind a subscription. For instance, you could have a teaser paragraph that is displayed to everyone, and everything after that teaser requires a subscription to view. Unsubscribed users will be shown a message telling them they need to subscribe to view the rest of the content.
Automatic subscription management. This plugin works seamlessly with Spreedly to automatically handle subscriptions on your site. After you install and configure the plugin, all of the subscription management happens behind the scenes.