Products
Commercial

DonorKeep
DonorKeep simplifies the tasks of donation and campaign management, and tax reporting for nonprofit organizations. It provides a simple and elegant interface for recording donations, and keeps track of donor giving, making end-of-year reporting a breeze.
---

NeoBudget
Many people flinch when they hear the term "budget." Many think budgeting is too complicated, too restricting, too much of a pain. NeoBudget is a layman's budgeting tool, designed to take the sting out of budgeting by providing a simple and intuitive interface. By using the envelope system, it already has a head start. Users need not know anything about accounting to successfully conquer their personal finances. Using virtual envelopes helps make the experience more tangible.
---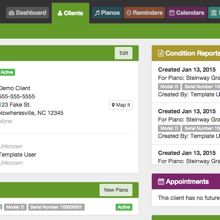 The Gazelle Network
Serving as a CRM, invoicing system, and service report generator, The Gazelle Network helps piano technicians exceed the expectations of their clients. Our unique condition reports help technicians communicate the needs of piano with their clients in a way that is non-threatening, educating the client on technical details of their instrument.
---

Spreedly Wordpress Plugin
Based on the Spreedly PHP Library, this plugin provides a drop-in solution for requiring paid subscriptions to view certain content on your WordPress blog. Installation is as easy as uploading and installing the WordPress plugin. You then configure the Spreedly settings, and you're ready to go.
Open Source

SquirrelMail
SquirrelMail has been one of the leading open source webmail systems in the world for over 15 years. Nathan and Luke started this project back in 1999 and managed it for several years during college. Currently it is used by millions of organizations and people worldwide.
Wikipedia → Visit the website →
---
CupsFFI
Ever needed to do printing from a Ruby application? CupsFFI is a handy gem that wraps around libcups to provide access to your printers and their PPD files. Easily enumerate available printers, their options, print data, print files, check on a printer's status, cancel jobs, and more.
---
Spreedly PHP Library
We have created and maintain the PHP library used for accessing and interacting with the Spreedly recurring payment system. This open source library makes it easy to integrate your PHP-based site with Spreedly.